2022/23 Recipient of the Extra Mile Award:
Laura Spears – Kindergarten Teacher
The South Whidbey Schools Foundation Extra Mile Award is given "to acknowledge and honor teachers who have gone the furthest in service of the South Whidbey education community."  Candidates are nominated by their peers.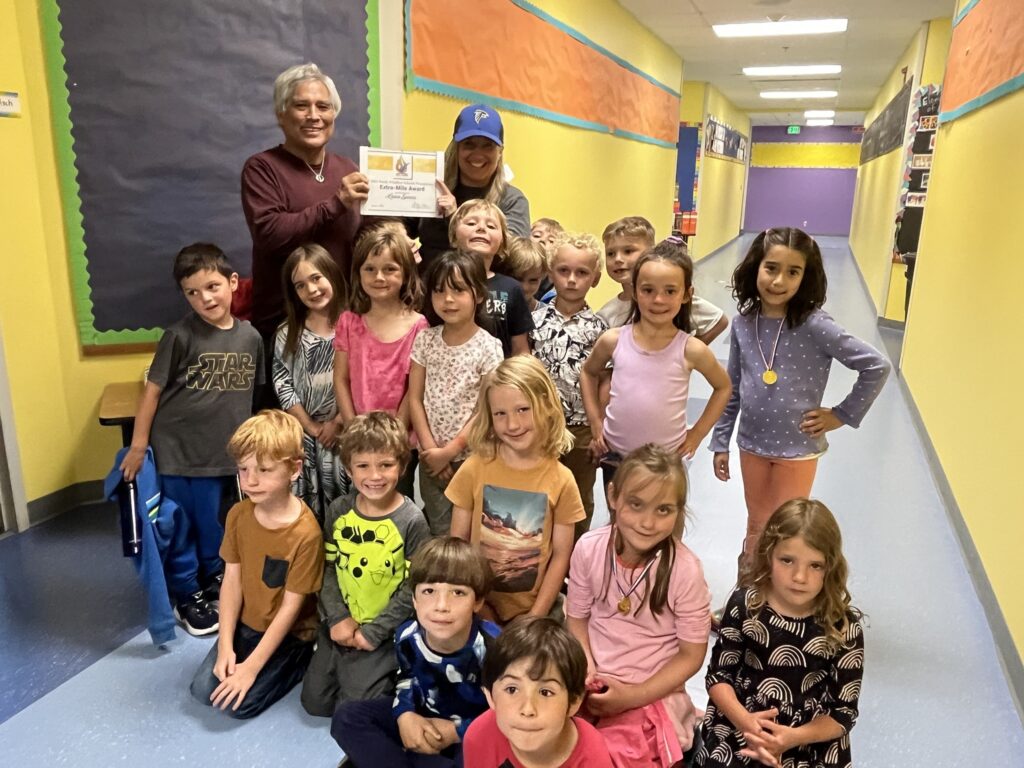 SWSF Board Vice President Clyde Monma presented Kindergarten teacher Laura Spears with the SWSF Extra-Mile Award. She was nominated by her fellow teachers with comments which included the following:
1. "Rarely have I ever encountered an educator so completely dedicated, heart & soul, to the job of teaching, nurturing & loving young people."
2. "She is the most incredible teacher I have ever met."
3. "She exemplifies the concept of inclusionary practices, not only for students, but also for staff."
4. "She is a "go to" person for many of us in the school."
SWSF's annual Extra Mile Award was created by an anonymous donor, and recognizes extra efforts by a teacher. This award, with its accompanying $500 stipend, is presented to a teacher selected by the Foundation from nominations by his or her peers for efforts beyond the call of duty in the past year.
---
Past Recipients of the Extra Mile Award
Sue Ann Brewer Mays (2019)
T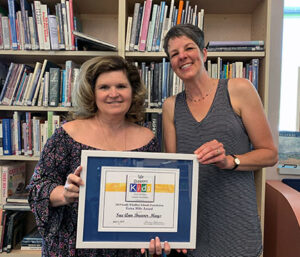 he South Whidbey Schools Foundation Extra Mile Award is given "to acknowledge and honor teachers who have gone the furthest in service of the South Whidbey education community."  Candidates are nominated by their peers.
One of the teacher nomination letters states that "Sue Ann Brewer Mays has revised our school library, creating an inviting space and multiple ways for students and teachers to interact. She engages students who report that 'the librarian' recommended yet another great book."
They go one to say that "Sue seamlessly bridges the nuances of the MS & HS staff needs. She has a unique ability to see a problem and offer assistance in a comforting and efficient manner. Her grace under pressure, competence, patience, and ever ready willingness to help, in yet another year of change, make her the ideal candidate for the Extra Mile award."
---
Andy Davis (2018)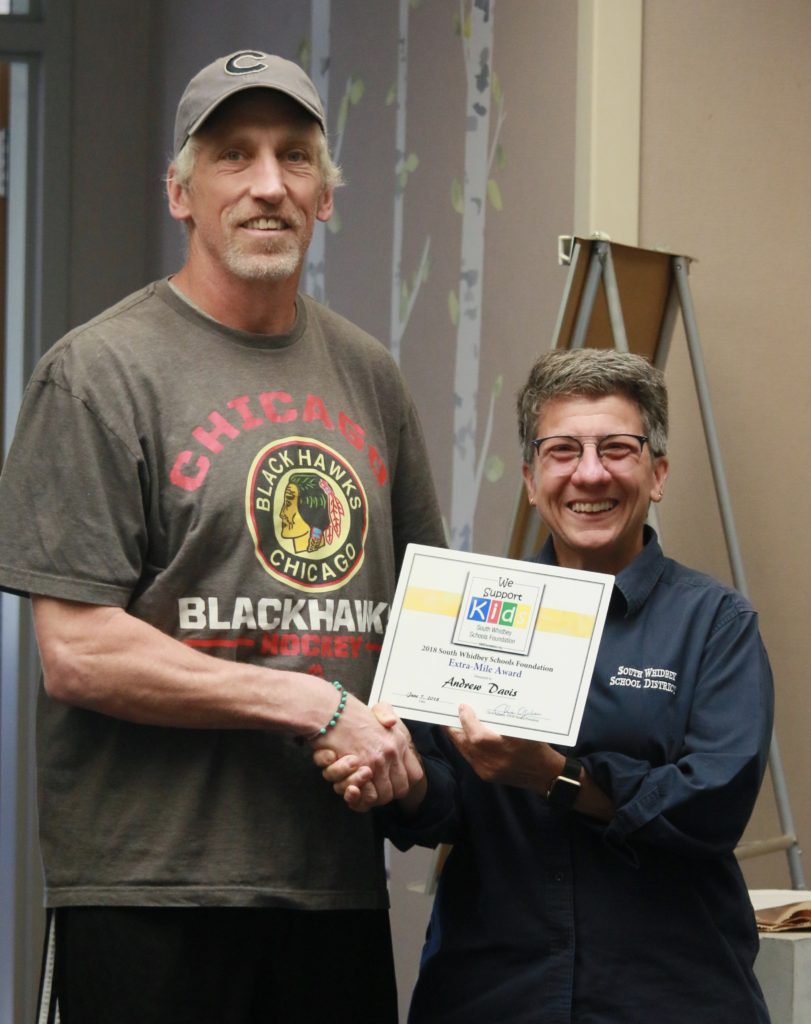 South Whidbey High School math teacher Andy Davis received the 2018 Teacher Extra Mile Award, voted on by his faculty peers.
"For the past eight years Andy has been helping students with various disabilities improve their math skills while helping them feel more able and confident in their ability to take risks and persevere on difficult challenges. Andy has always been more than willing to work with struggling students in math. He never complains about the extra work that was placed on him or the hours of time spent in Special Education meetings and also meeting with families that need support," wrote Charlie Davies, director of
the South Whidbey Academy, adding "Andy may teach Math but it's not really about Math. It's much bigger."
Technology Educator Jim Hall echoed Davies' comments, adding that "Andy has worked tirelessly to form important relationships with marginalized students who need unique pathways to successful learning. Time and time again I've seen him tailor approaches for a wide variety of students, always treating them with respect and care."
In addition to the plaque, Davis received a $500 check.
---
Doug Fulton (2017)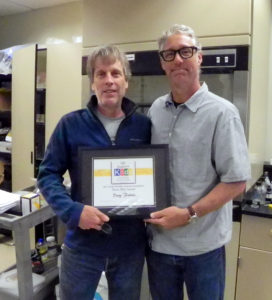 South Whidbey High School teacher Doug Fulton received the peer-nominated 2017 "Extra Mile Award." He teaches science at the high school, and was nominated by colleague Charlie Davies, lead educator for the South Whidbey Academy, and himself a previous award recipient.
At the farewell assembly Davies read from his nomination of Fulton:
"I have worked closely with Doug over the past nine years. In my previous role as Special Education Case Manager, Doug was always more than willing to have struggling students in his Biology class. He would never complain about the extra burden that was placed on him or the hours of time I would take from him to talk about the kids and how to best support them.
"Doug would always find a way. He would always say to me, 'Don't worry, if the student comes to class, we'll find a way,' and he did. Countless Special Education students over the past years have fully participated in Doug's Biology class with minimal to extensive modifications to the class. These students passed the class, earned their science credit and passed their state assessment.
"This year Doug took on a new challenge working to create a Biology class for the South Whidbey Academy students. He did just what he has always done. He made it work. The students were challenged and engaged and the class was a great success with students earning credit and passing the state assessment.
"I have also watched Doug over the years coach Cross Country and Track. He puts in tremendous amount of time and energy. He goes far above and beyond what is expected or even the norm. Doug has created a Cross Country experience that feels more like an extended family than a sports team … "Doug quietly goes the Extra Mile every day. We are lucky to have him," Davies wrote.
---

Becky Breeze (2016)
Speech language pathologist Becky Breeze, a member of the special education departments at both the elementary and middle schools received the South Whidbey Schools Foundation Extra Mile  Award for 2015/16.
The Extra Mile Award acknowledges and honors current teachers for "having gone the furthest in the service of the South Whidbey education community," according to a press release. Breeze received the award from School Board Director Linda Racicot at a faculty luncheon June 17.
"Becky is committed to providing quality services to each student she serves, teams well with all staff, values every student and recognizes their achievements, [and] is a lifelong learner and shares what she learns," said Robin Roberts, a colleague of Breeze.
---
Charlie Davies (2015)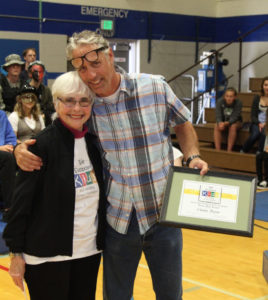 The Extra Mile Award acknowledges and honors a current South Whidbey School District teacher for having gone the proverbial "extra-mile" in terms of service to students and faculty.  This year's recipient is Charlie Davies, a South Whidbey graduate and the special education and work-based learning teacher at South Whidbey High School.  Davies' nomination was endorsed by more than 25 district faculty and staff.
As Davies' colleagues explained:
"I have seen Charlie be a teacher first, but also a mentor, adviser, coach, trainer, disciplinarian, and someone who the students look up to and strive to be like. He can take a bad situation and turn it into a great positive learning lesson for the students. He amazes us every day. I can go on and on about the respect I have for this man. He gives everyone around him the feeling of wanting to do their best," wrote one colleague.
"He goes above and beyond to make sure he has given our students every opportunity to succeed," wrote another.
The award, which includes a cash stipend, was presented to Davies at the Senior Farewell Assembly for the Class of 2015.
---
Louise Fiori  (2014)

The Extra Mile Award, which acknowledges and honors a current South Whidbey School District teacher for having gone the farthest in the service of the South Whidbey education community, went this year to  Louise Fiori, retiring math teacher at South Whidbey Academy.  Fiori was nominated by the entire staff at the Academy.
Their reasons for nominating Fiori include:
"never fails to meet students where they are academically. I have personally witnessed her teach" multiple students math skills, even when they have mathphobia."
"A passionate advocate for students. She pulls no punches, believes that students are capable of success, and works hard helping the students also believe in themselves."
"..impressed with her ability to switch back and forth, helping children within one classroom with ranging abilities from 5th grade math to a 10th grade level."
"She is always excited to see the students experiencing math in other ways than just paper and pencil work and rejoices with the students over their hard work."
"…a wealth of worldly experience beyond the education industry…to give deep context to her classroom presence …has also been an incredibly patient peer advisor, particularly in negotiating the Labyrinth of Apex."
After receiving the award, Fiori commented: "It is humbling to be recognized for the performance of one's duties and have them referred to as an "extra mile." Working for the South Whidbey School district was an exceptional end to my twenty-year career in education. It gave me an opportunity to bring the best parts of my career together and explore new and innovative pedagogy with high schol and middle school students. The success of students is paramount and creating life-long learners is deeply satisfying. Thank you."
---
Two Recipients for 2013
For the first time in its 18-year history, the South Whidbey Schools Foundation awarded three teachers its "Extra Mile" award at the June 18 end-of-school-year Elementary and Middle School Assemblies for the 2012/13 school year. The award, along with a $250 check, was presented to Becky Ward and Michelle Zisette, both South Whidbey Elementary Special Services teachers, and to Nels Bergquist, a Langley Middle School English and Social Studies teacher and a second-time recipient of the award. The "Extra Mile" award goes to a South Whidbey educator nominated by his or her peers and selected by the Foundation Board for extraordinary service provided to South Whidbey students and schools.
Becky Ward (2013)
Becky Ward was nominated by several teachers because, as stated in her nomination letter, "She truly embodies a teacher who puts her heart and mind into educating her students… She goes above and beyond to help not only the children but their families as well. She fosters partnerships and supportive relationships… She keeps parents informed, listens to every situation, and finds a way to make it happen for all sides. We are so lucky to have such a patient, understanding, and dedicated teacher at our school."
---
Michelle Zisette (2013)
Michelle Zisette was nominated by the school principal who received a letter from the parent of a student in the Learning Resource Center with the following commendation: "I was absolutely amazed at how she just jumped into the vacant position … and got immediately up-to-speed on all her case files. She was and has been absolutely amazing in the way she is handling both IEPs and LRC with professionalism. "She is a great listener, extremely organized in her classroom, manages her IEP cases on-time and professionally, and is a great educational partner with me… She definitely deserves this award."
---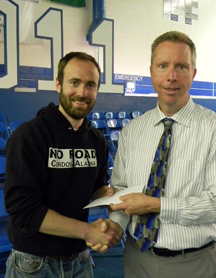 Nels Bergquist  (2013)
Nels Bergquist, who was nominated by a colleague wishing to remain anonymous, was commended for making, "… a huge difference in his students' lives and in (the life of) one student in particular. This young man has had a rough year. Between transitions and personal issues he was having a rough time at school. He hated getting up, he wouldn't do his work, and he wanted nothing to do with school. Each day he would begrudgingly get up, go through the routines, and 'survive' being at school. Since being in Mr. Bergquist's room he has made a huge turnaround. His grades are up, he looks forward to going to school, and works hard to meet Mr. Bergquist's expectations. "When asked why he likes Mr. Bergquist so much he replied, 'because he cares about me, is interested in me as a person, and expects me to do my best.' I have heard numerous stories about Mr. Bergquist, each one is about what an amazing teacher he is, how he has this unique ability to set high expectations and motivate students to want to meet those expectations."
---
Robin Roberts (2012)
Robin Roberts, a special education teacher at the Elementary School who has taught in the District for more than two decades, received the Foundation's 2012 Extra Mile Award, a peer recognition award for a colleague's efforts that go 'above and beyond' the expected. "I worked side-by-side with Robin in Special Education and was impressed immediately by her work ethic, her compassion, and her commitment… She is always a strong advocate and always keeps children's interest centered in the heart of everything she does… She spends an incredible amount of time preparing, planning, and  individualizing instruction to make sure all students are getting the very best she can give them every day," wrote teacher Val Brown in her nomination for Roberts. Colleague Karyn LeWarne wrote, "Robin is an amazing, trusted colleague and friend and an even more amazing instructor of some of our most fragile and profound students in the Life Skills program at the Elementary School. A glimpse into her day looks like many little miracles flowing together to create a learning environment rich in creativity, diverse instruction, and complete love and acceptance for all the students she works with. She is incredibly organized and on any given day can tell you minute details about any of her students down to their family members and pet's names." Retired P.E. teacher Jan McNeely wrote, "I love going into her classroom and watching her interact with her kids… Her room is full of exciting lessons, beautiful and creative art, and a good dose of a wonderful sense of timing and humor." Roberts was awarded a $500 check at a school assembly where each of her students presented her with a flower to make a beautiful bouquet. "It was an honor to be nominated by my peers," she said. "I feel that this award is an acknowledgement for the hard work that all of our teachers perform on behalf of our students."
---
Valerie Brown (2011)
Val Brown, the 2010/11 Extra Mile Award recipient,  has taught kindergarten and served as a library media specialist for the past 18 years in the  South Whidbey School District.   Fellow staff members describe Brown's work in the library as exceptional because she "…makes the Elementary Library a welcoming place for all students, going far beyond her contractual hours to make sure the library is opened during rainy day and lunch time recesses." Brown has enjoyed working with a very supportive staff.  She reports that any time she says, "I have this idea…, people are always willing to jump in and help me make it work.  They make me look good." Some of the highlights mentioned by others include I-Did-A-Read, during which each class worked collaboratively to create a dog that moved along an Iditarod map showing how many hours that class read.   Another hallway adventure was encouraging students to read all of the Washington state picture books competition.  "It was wonderful to be in the hallway when students arrived in the morning and see them get excited about books and have meaningful conversations about them." Brown also seeks ways to include world events in the students' reading.  For example, after the devastating Japanese earthquake, Brown shared the book, Sadako and the Thousand Cranes with students, and spearheaded the entire school to make 1000 cranes, now hanging in the library.   With the awareness of childhood hunger, she used a book called What The World Eats as a springboard to awareness of families suffering from hunger in other countries. Involving families is also important to Brown who enjoys  Dolphin Family Book Club and Harry Potter night.   Clearly, she celebrates literacy by supporting and encouraging the broad SWES community of children, parents, and staff.  We should mention that due to budget cuts, Brown will become the Title Reading teacher at SWES where she will continue to promote literacy with students, staff, and parents. The Extra Mile Award was originally funded by an anonymous donation and is sustained by donations to the Foundation. A $500 cash gift accompanies the award.
---
Jennifer Gandarias (2010)
Jennifer Gandarias, teacher at the South Whidbey Elementary School since 1998, was awarded the 2009/10 Extra Mile Award for Excellence in Teaching to honor teachers who have gone the farthest in the service of the South Whidbey Education Community. Gandarias is well loved by students, staff, and parents who appreciate her outstanding outreach to parents so that all students are achieving to the best of their abilities. She is also recognized for her generosity in assisting other staff with integrating technology into their teaching and learning. Staff nominations include comments that Gandarias has more energy than any five people put together. She is passionate about technology and spends countless hours incorporating it into her lessons, teaching other staff, and attending workshops, at her own expense. Additionally, she pairs with Mary Ridley to run an after school garden club. Gandarias cares about each student and adapts her lessons to reach each child….She is an all around outstanding teacher.
---
Greg Ballog (2008)
A biology teacher at South Whidbey High School, Greg was nominated by a student who wrote, "His phenomenal teaching techniques, clever anecdotes and dedication to students exceed all others I've ever encountered…As I leave high school and move on to college, I can only hope to encounter teachers as motivated, talented and dedicated as Mr. Ballog." (Mr. Ballog also received this award in 2005.)
---
Erik Jokinen (2007)
The award was presented to Erik Jokinen, Physical Education and Health Teacher at Langley Middle School.His award presentation remarks read: "Erik has committed himself personally and professionally to helping our students become healthier and more physically fit. He works on a district committee to improve all aspects of student health, and dedicates his lunch time to organizing intramurals. He inspires staff and students to develop healthy habits and a life-long desire for fitness."
---
Diane Moondancer (2006)
The 2006 Extra Mile Award was presented to Dianne Moondancer, English and psychology teacher and Director of the Bayview School, who also had numerous nominations for the award.
---

Greg Ballog (2005)

biology teacher at South Whidbey High School, Greg was nominated by a student who wrote, "His phenomenal teaching techniques, clever anecdotes and dedication to students exceed all others I've ever encountered…As I leave high school and move on to college, I can only hope to encounter teachers as motivated, talented and dedicated as Mr. Ballog."
---
Rich Conover (2004)

Rich Conover, visual arts teacher at South Whidbey High School, was the 2004 winner of the South Whidbey Schools Foundation's Extra Mile Award winner. Rich, in his 27th year as a public educator, is estimated to have taught more than 2500 students. He has maintained an intensive, hands-on art program which he built from the ground up, and which is rivaled only at college and professional levels.
---
Kathy Callahan (2003)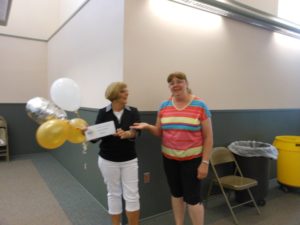 Amidst the cheers of South Whidbey Intermediate School students at their year-end awards assembly, teacher Kathy Callahan was announced as the winner of the 2003 Extra Mile Award.