Jean Shaw of the South Whidbey Schools Foundation and local "Conductor of Fun" Jim Freeman paid surprise visits to local classrooms on Nov. 9. With balloons in hand, a top hat, feather boa and crown, they distributed grant letters totaling nearly $20,000 to 11 teachers for 13 classroom project requests. Since then, additional off-cycle grants have been awarded with additional donations now totaling more than $27,000 for 20 projects). Grant awards ranged from $439 to $3,000.  Each campus received at least one grant award, and some of the projects funded involve all campuses.
This year's grant applications included requests to revive performing arts at the high school; digital cameras for use in the journalism/yearbook program; funding for local musician clinicians to work with members of the Langley Middle School Band; sponsoring a marine studies program at the Elementary School; providing seed money to help broaden the reach of the 8th grade Adventure Education program; purchasing a Sensory Water Table for Life Skills students; and purchasing recorders so students can participate in a collaborative effort with the Saratoga Orchestra engaged in a Carnegie Hall-sponsored music education program titled "The Orchestra Rocks."
Since its inception in 1994, the Schools Foundation has funded more than $245,000 in teacher-requested projects and materials to enhance educational excellence, projects which the school district is unable to fund due to tight budgets.
If you are a South Whidbey School District educator and wish to be considered for an off-cycle grant application for 2016/17, download the application here.
If you are the recipient of a 2016/17 SWSF classroom grant, please be aware that final reports are due May 12. You may download the report PDF here.
If you are interested in learning about our new Adopt-A-Grant program, CLICK HERE.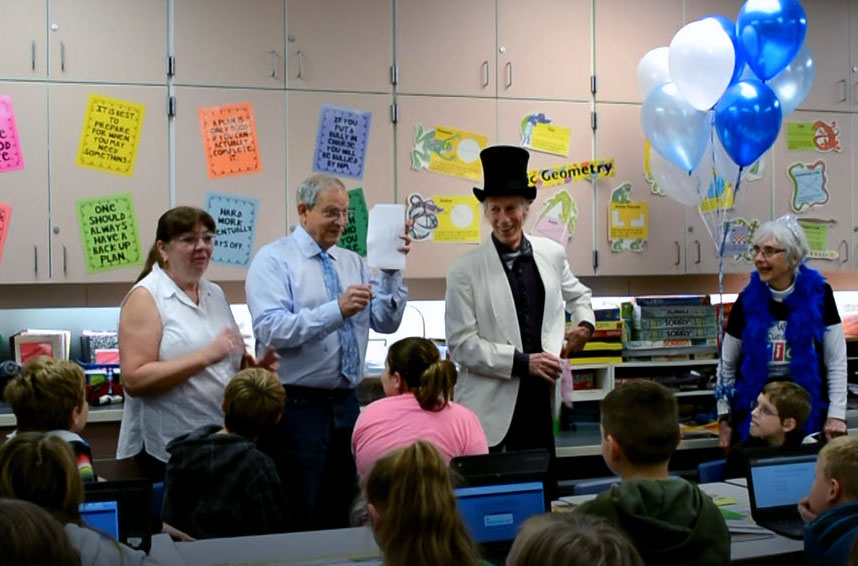 2016/2017 South Whidbey Schools Foundation Funded Classroom Grants
TEACHER
PROJECT TITLE
SCHOOL
GRADE LEVEL
AMOUNT REQUEST
 AMOUNT GRANTED
ADOPT A GRANT
Sharla Matthews
Sound & Light
SWES
1st
$1,169
$1,169
Bruce Callahan
Whale Watching Boat Adventure
SWES
5th
$1,500
$1,500
Monique Mangin
Sensory Light Board
SWHS
9-12
$500
$500
John LaVassar
Mr. Good, Mad, Fun Science
SWES
5th
$1,400
$1,400
John LaVassar
School-Wide Salmon Project
SWES
5th
$1,200
$1,200
Chris Harshman
Band Clinicians
LMS
6-8
$2,500
$500
$2,000
Mandy Jones
Sensory Water Table
SWHS
9-12
$1,500
$1,500
Jeff Greene
Musical/Drama
SWHS
9-12
$1,500
$1,500
Jeff Greene
Yearbook/Photo Journalism
SWHS
9-12
$1,050
$1,050
Kathryn O'Brien
Climate Arts Project
All Schools
K-12
$2,800
$2,500
Michele Zisette
Focused Space for All
SWES
1st
$439
$439
Jean Cravy
Bringing Learning to Life
SWA
5-6
$2,000
$2,000
Nels Bergquist
8th Grade Adventure Education
LMS
8th
$10,000
$3,000
Don Zisette
8th Grade Inventions
LMS
8th
$790
$790
Chris Harshman
Link-up – Orchestra Rocks
All Schools
5-12
$3,000
$3,000
Valerie Brown
MakerSpace STEM Kits 2016
SWES
K-5
$750
$750
$32,098
$19,448
$5,350
$24798
In addition, these off-cycle grants have been added and are available for our adopt-a-grant program for a total funding of $27,048:
1) "Ukuleles in the Classroom"  $150 to purchase four ukuleles, by Debra Davies Vogel, first grade.  This project seeks to integrate "Ukuleles in the Classroom" strategies and lessons to enhance students' attention, engagement, enjoyment, learning, and retention of knowledge and skills.
2) "Music (Ukuleles) in the Classroom to Increase Attention, Engagement and Learning", $300 to purchase 8 ukuleles, by Tere Baker, SWES Special Education and General Ed K-4.This project seeks to integrate "Ukeles in the Classroom" strategies and lessons to enhance students' attention, engagement, enjoyment, learning, and retention of knowledge and skills, and to provide an additional tool for dealing with challenging behaviors & self-regulation issues by helping interrupt building frustrations, helping re-set after escalated episodes, and providing a positive reinforcement tool with students with whom it may be helpful.
3) "Healthy Eating in Different Cultures"  $800 to pay for speakers and ingredients for the program, by Susan Milan, seventh grade. In the 'Healthy Eating in Different Cultures' project, presenters from a variety of countries will visit the Health and Wellness class to share what healthy eating looks and tastes like in their culture. In the 2016-17 school year, presenters from Japan, Russia and Lebanon have shared their cultures in 10 classes. This grant secures funding to continue this program in the 2017-18 school year.
4) "Guitars in the Classroom- Music integration training for teachers K-12"  $2,700 for two phases of guitar lessons for educators seeking to integrate the "Guitars/Ukuleles in the Classroom" curriculum into their classes.This project starts in June 2017, by providing additional training for those educators that have already taken the beginner program, at a cost of $1000.  The second phases will occur in September 2017, when the beginner course for the curriculum will be offered to all South Whidbey School District educators, at a cost of $1700.
---

2015/16 Classroom Grants
| | | | | | | |
| --- | --- | --- | --- | --- | --- | --- |
| Caitlin Jones | Rites of Passage Group | SWA/SWHS | 9-10 | $400 | 0.00 | $400 |
| Rachelle Bennett | Access to Sno-Isle Library/Kindle Fires Purchase | SWHS | 9-12 | $1,200 | 1,173.75 | $26.25 |
| Susan Milan | STEM Field Studies and Fair | LMS | 7th | $1,500 | 1,500.00 | $0.00 |
| Teresa Baker | Evidence-Based Intervention & Emotional/Behavior Management | SWES | K-3 | $961 | 1,044.35 | -$83.35 |
| Michele Zisette | Sit for Success | SWES | 4th | $353 | 353.00 | $0.00 |
| Chris Harshman | Marimba Project Completion | SWHS | 9-12 | $1,000 | 1,000.00 | $0.00 |
| Jonathan Watkins | South Whidbey Underwater Robotics Class | SWA/SWHS | 6-12 | $1,500 | 931.46 | $568.54 |
| Pam Muncey | Class Hand-Made Afghan Project | SWES | 5th | $149 | 150.19 | -$1.19 |
| Greg Ballog | Atomic Modeling | SWHS | 9-12 | $265 | 235.25 | $29.75 |
| Jeff Greene | Sound Recording Studio | LMS/SWHS | 5-12 | $1,550 | 1,355.95 | $194.05 |
| Don Zisette | Exploring Watershed Science | LMS | 8th | $600 | 652.50 | -$52.50 |
| Jean Cravy | STEM Class Physical Science Set | SWA | 6-8 | $523 | 522.47 | $0.53 |
| David Pfeiffer | A Splash of Red: Book-It Repertory Field Trip Workshops | SWA/SWES | K-5 | $1,065 | 1,057.94 | $7.06 |
| Jennifer Gandarias | Redesigning Professionalism:  Constructing Education | SWHS | 9-12 | $901 | 916.34 | -$15.34 |
| John LaVassar | Explore:  Matter and Its Interactions | SWES | 5th | $1,320 | 1,320.00 | $0.00 |
| John LaVassar | Salmon in the Classroom | SWES | K-5 | $1,500 | 1,500.00 | $0.00 |
| John LaVassar | Salmon Run: Art/Sewing/Writing Project | SWES | 5th | $100 | 100.00 | $0.00 |
| Greg Ballog | Understanding Carbon Middle School & High School | LMS/SWHS | 7 & 10 | $2,628 | 2,610.30 | $17.70 |
| Kathryn O'Brien | Aquaponics Classroom Prototype & Aeroponic Chamber | SWHS | 9-12 | $1,200 | 1,200.01 | -$0.01 |
| Valerie Brown | MakerSpace STEM Kits | SWA/SWES | K-5 | $1,200 | 1,161.17 | $38.83 |
| Pam Muncey | Bringing Learning to Life – Serving at SW State Park | All | 3-12 | $2,400 | 2,400.00 | $0.00 |
| Valerie Twomey | Learning with Legos:  Engineering, Programming & Robotics | SWES | 2nd | $3,082 | 2,424.40 | $657.60 |
| Caryn Ploof | Can You See the Leader in Me? | SWES | 4-5 | $564 | 613.07 | -$49.07 |
| Mary Bakeman | 7th Grade Outdoor Learning Expedition | LMS | 7th | $1,500 | 1,500.00 | $0.00 |
| Betsy Gmerek | Expressionism & Principles of Design-Action Art | SWA | 6-12 | $260 | 260.00 | $0.00 |
| Bruce Callahan | Whale Watching Boat Adventure/Langley Whale Museum | SWES | 5th | $1,500 | 1,297.74 | $202.26 |
| Nick Delmedico | In Residence Jazz Band and Concert Band Clinicians | LMS | 6-8 | $2,000 | 2,000.00 | $0.00 |
| Jenny Campbell | Global Cultures Enrichment Program | LMS | 6-8 | $2,000 | 2,000.00 | $0.00 |
| | | | | | 860.25 | -$860.25 |
| | | | TOTAL AMOUNTS = | $33,221 | 32,140.14 | $1,080.86 |
2014/15 Classroom Grants
South Whidbey Schools Foundation Teacher Grant Awards – Fall 2014 & Spring 2015
| | | | | |
| --- | --- | --- | --- | --- |
| ID | PRIMARY TEACHER NAME(S) | PROJECT TITLE | SCHOOL(S)/ STUDENTS | AMOUNT GRANTED |
| | | | | |
| --- | --- | --- | --- | --- |
| 1 | Jeff Cravy | Buddy Bench and Friendship Garden | SWES | $550.00 |
| 2 | Suzanne Haugen | Kids in the Kitchen | SWES | $735.00 |
| 3 | Jean Cravy | SW State Park – Bringing Learning to Life Project | SWA, SWES, LMS | $2,500.00 |
| 4 | Sandy Gilbert | Robotics for 6th Graders | LMS | $2,800.00 |
| 5 | Don Zisette | STEM – Inventions and Technology | LMS | $800.00 |
| 6 | Susan Milan | LMS 7 Oceanography Program | LMS | $1,280.00 |
| 7 | Jess Monett | In-Residence Jazz Band & Concert Band Clinicians | LMS | $1,500.00 |
| 8 | Mary Bakeman | 7th Grade Outdoor Learning Expeditions | LMS | $1,500.00 |
| 9 | Debra Davies | How Does Our Garden Grow | SWES | $800.00 |
| 10 | Timmie Sinclair/Leah Tormey | South Whidbey Academy InvenTeam | SWA | $1,500.00 |
| 11 | Timmie Sinclair | SWA Underwater Robotics Program Expansion | SWA | $1,500.00 |
| 12 | David Pfeiffer | Sheep to Shawl Year Two – Goat Fiber | SWA | $1,500.00 |
| 13 | Sue Wolf-Rottkay | Multicultural Art | SWA | $850.00 |
| 14 | John LaVassar | Salmon in the Classroom | SWES | $1,500.00 |
| 15 | Jean Cravy | Recorder Karate | SWA | $80.00 |
| 16 | Jackie Gelston | Salmon Run:  Art/Sewing/Writing Project | SWES | $1,070.00 |
| 17 | Bruce & Kathy Callahan | Whale Watching Boat Adventure/Langley Whale Museum | SWES | $1,400.00 |
| 18 | Jennifer Gandarias | Redesigning Professionalism:  Constructing Education | SWHS | $725.00 |
| 19 | Betsy Hofius | New School Farm Weather Station | SWES/SWA | $300.00 |
| 20 | John LaVassar | Explore:  Matter and Its Interactions | SWES | $660.00 |
| 21 | Michele Sakaguchi | SWA Aquaponics Project | SWA | $1,500.00 |
| 22 | Allie Fee | Problem Solving/Positive Reinforcement Room | SWES | $300.00 |
| | | | | $25,350.00 |
2013/14 Classroom Grants
South Whidbey Schools Foundation Teacher Grant Awards – Fall 2013 & Spring 2014
| | | | |
| --- | --- | --- | --- |
|   1.  Danni Curgus | SWES | 2nd Grade Listens and Writes to Read | $325 |
|   2.  Greg Ballog | SWHS | Applying Modern Genetics to Your Life | $1,080 |
|   3.  David Pfeiffer | SWA | Underwater Robotics Club | $1,500 |
|   4.  Craig Stelling | SWES | Dance Instruction: Square Dance | $400 |
|   5.  Don Wodjenski | SWHS | Artist in Residence (AiR) Supplies | $1,000 |
|   6.  Jeff Greene | SWHS | Yearbook Photo Journalism | $1,418 |
|   7.  Susan Milan | LMS | LMS Fresh Food for Lunch | $1,500 |
|   8.  Don Zisette | LMS | STEM in the Classroom | $1,150 |
|   9.  Michele Zisette | SWES | Early Literacy in the K-3 Special Ed. Classroom | $465 |
| 10.  David Pfeiffer | SWA | Sheep to Shawl | $1,085 |
| 11.  Craig Stelling | SWES | Square Dance Instruction:  Fall 2014 | $925 |
| 12.  Michelle Sakaguchi | All Schools | SW State Parks – Bringing Learning to Life Project | $2,000 |
| 13.  John LaVassar | SWES | Salmon in the Classroom | $1,000 |
| 14.  Jess Monett | LMS | In-Residence Jazz Band and Concert Band Clinicians | $1,500 |
| 15.  John LaVassar | SWES | Leadership Through Art | $920 |
| 16.  John LaVassar | SWES | Exploring Energy and Science Photography | $600 |
| 17.  Chad Felgar | SWHS | "Project Veg" – Supplying SW Schools Cafeterias | $1,500 |
| 18.  Rachel Kizer | SWES | Fun and Games with Readin', Writin', and 'Rithmetic | $1,000 |
| 19.  Sharla Matthews | SWES | Amazing Artists | $1,200 |
| 20.  Erik Jokinen | LMS | Fit Step:  Uploadable Data Pedometer Project | $879 |
| 21.  Betsy Gmerek | SWES | Drying Rack and Clay/Kiln Resources for Art Room | $404 |
| 22.  Mary Bakeman | LMS | 7th Grade Culminating Experience – Boat Rental | $700 |
| | | | $22,551 |
2012 Classroom Grants: South Whidbey Schools Foundation Teacher Grant Awards – Fall 2012 & Spring 2013
| | | | | |
| --- | --- | --- | --- | --- |
| NAME  | SCHOOL(S)  | TITLE | AMOUNT   | SOURCE |
| | | | | |
| --- | --- | --- | --- | --- |
|   1.  Christie Elliot | SWES | Artists in Action Extension | $500 | General |
|   2.  Christie Elliot | SWES | Read Naturally | $648 | General |
|   3.  Jess Monett | LMS | In-Residence Jazz Band & 6th Grade Band Clinicians | $1,500 | General |
|   4.  Susan Milan | SWES | Exploring Renewable Energy | $1,000 | General |
|   5.  Jeff Greene | SWHS | Camcorder Digital HD Cameras | $1,324 | General |
|   6.  Leslie Woods | SWES | Building Community from the Soil Up | $1,000 | General |
|   7.  Susan Wolf Rottkay | SWA | Painting and Printmaking with Intention | $769 | General |
|   8.  Sandy Gilbert | LMS | 6th Grade Science Survival Tools | $1,000 | General |
|   9.  Val Brown | All Schools | Pre-K – 12 Online Encyclopedia | $2,305 | General |
| 10.  Val Brown | SWHS | SWHS Library Materials | $150 | General |
| 11.  Val Brown | LMS | LMS Library Materials | $150 | General |
| 12.  DeAnn Ross | LMS | 7th Graders Want to Know EVEN More | $1,079 | General |
| 13.  DeAnn Ross | LMS | Probing Middle Schoolers – LMS Science Team | $4,210 | General |
| 14.  Jennifer Gandarias | SWHS | Class Lectures and Discussions on the Go | $1,301 | General |
| 15.  David Pfeiffer | SWA, SWES | SWA Collaborative Garden Project w/ Good Cheer | $5,000 | General |
| 16.  Don Zisette | LMS | Maritime Studies | $450 | General |
| 17.  Steve Jones | SWHS | Geocaching:  Finding Fitness | $1,250 | General |
| 18.  Mary McLeod | SWES | Smart Art Cart | $1,173 | General |
| 19.  Becky Breeze | SWES | Assistive Technology – Using Computer Books | $1,500 | General |
|  TOTAL: | | | $26,309 | |
South Whidbey Schools Foundation Teacher Grant Awards – November 2011:
NAME
SCHOOL 
TITLE
AMOUNT  
SOURCE
1.   Dayle Gray
SWES
Leader in Me Implementation
$1,000
General
2.   Christie Elliot
SWES
Artists in Action
$755
General
3.   Mary McLeod
BVHS
Art with Heart
$500
General
4.   Teresa Cooper/David Pfeiffer
WIA
Nature Adventure: A Community Based Class
$575
General
5.   Don Zisette
LMS
Mission to Mars
$575
General
6.   Kimmer Morris
SWES
Music Support
$150
General
7.   Sue Raley
SWES
Synergize
$290
General
8.   Charlie Davies
SHWS
Audio Enhanced Books on Kindle for Special Ed.
$550
General (1)
9.   Lana Johnson
WIA
IXL Site License for Classroom
$200
General
10. Robin Roberts
SWES
Mipad 2
$182
General (2)
11. Suzanne Haugen
SWES
Kindercise
$700
General
12. Chris Harshman
SWHS
Recording Mixer for Auditorium/Music Programs
$1,000
General
13. David Pfeiffer
BVHS/WIA
Project Based & Expeditionary Learning for Students
$1,000
General
14. Charlene Ray
BVHS
Leadership & Mentorship:  Creating the Future
$1,000
General
15. Katherine Mack
SWES
Collaborative Voicethread Presentations
$790
General
16. Don Wodjenski
SWHS
Canon EOS Rebel XS 10.1 MP Digital SLR Camera
$600
General
17. Susan Milan
SWES
Green Team
$1,000
General
18. Kathy Stanley
SWES
Literature for Sustainability & Social Justice
$500
General
19. Jeffrey Greene
SWHS
SWHS First Tech Challenge Robotics Club
$1,000
General
20. Jeffrey Greene
SWHS
Digital HD Video Camcorder & Camera
$1,000
General
21. Mary Eaton
LMS
Preserve our Projects
$1,000
General
22. Steve Jones
SWHS
Orienteering:  Searching for Fitness
$650
General
23. Jay Freundlich
SWHS
On-Line Language
$800
General
24. Jay Freundlich
SWHS
Imagine Tomorrow
$600
General
25. Charlie Snelling
LMS
Recording History of Langley
$400
General
TOTAL:
$16,817
(1)  Audio Enhanced Books on Kindle for Special Ed:  Additional $450 shall come from the SWSD Technology Fund
(2)  Mipad 2:  Additional $543 shall come from the SWSD Technology Fund
 Other Funded Grant Awards – November 2011
| | | | | |
| --- | --- | --- | --- | --- |
| NAME | SCHOOL  | TITLE | AMOUNT   | SOURCE |
| 26.  DeAnn Ross | LMS | Inquiring 7th Graders Want to Know | $1,000 | PSE Grant |
| 27. Jess Foley | LMS | In-Residence Jazz Band & 6th Grade Band Clinicians | $1,000 | LMS Band |
| TOTAL:  |   |   | $2,000 | |
South Whidbey Schools Foundation Teacher Grant Awards – Summer 2011:
| | | | | |
| --- | --- | --- | --- | --- |
| NAME | SCHOOL  | TITLE | AMOUNT   | SOURCE |
| 1.   Greg Ballog | SWHS | DNA Fingerprint Identification | $920 | General |
| 2.   Charlie Davies | SWHS | Kindles for Special Education | $970 | General |
| 3.   Andy Davis | SWHS | Pre-Algebra Resources | $1,000 | General |
| 4.   Chris Harshman | SWHS | Student Composer Project | $900 | General |
| TOTAL: |   |   | $3,790 | |
South Whidbey Schools Foundation Teacher Grant Awards – November 2010:
| | | | | |
| --- | --- | --- | --- | --- |
| NAME | SCHOOL | TITLE | AMOUNT | SOURCE |
| 1.   Danielle Curgis | SWES | Second Grade Speaks | $119 | General |
| 2.   Jay Fruendlich | LMS | LMS Rain Garden | $1,000 | General |
| 3.   Doug Fulton | SWHS | Spectral Analysis | $1,000 | General |
| 4.   Dayle Gray | SWES | Writing and Performance for the Theater | $500 | General |
| 5.   Jenny Gouchanour | SWHS | Enhanced Listening Comprehension in Spanish | $719 | General |
| 6.   Rachel Kizer | LMS | Reading 2.0 | $1,000 | General |
| 7.   Mary McLeod | SWES | Art: Hand Models | $445 | General |
| 8.   Susan Milan | SWES | Sustainable Gardening | $1,000 | General |
| 9.   Kimmer Morris | SWES | Music with Drums | $240 | General |
| 10. Charlene Ray | BVHS | Rites of Passage – Part 2 | $1,000 | General |
| 11. Sue Wolfe Rottkay | WIA | Spanish Conversation K-5 | $395 | General |
| 12. Sakaguchi/Pfeiffer | BVHS | Bayview Sustainable Garden | $1,000 | General |
| 13. Craig Stelling | SWHS | Dance Instruction | $450 | General |
| 14. Val Twomey | SWES | How Toys Work | $373 | General |
| 15. Don Zisette | LMS/SWHS | SADD Club and Traffic Safety Enhancement | $630 | General |
| TOTAL: |   |   | $9,871 | |
Other Funded Grant Awards – November 2010:
| | | | | |
| --- | --- | --- | --- | --- |
| NAME | SCHOOL | TITLE | AMOUNT | SOURCE |
| 16. Kathy Stanley | SWES | Exploring Solar Energy for Cooking | $450 | PSE Grant |