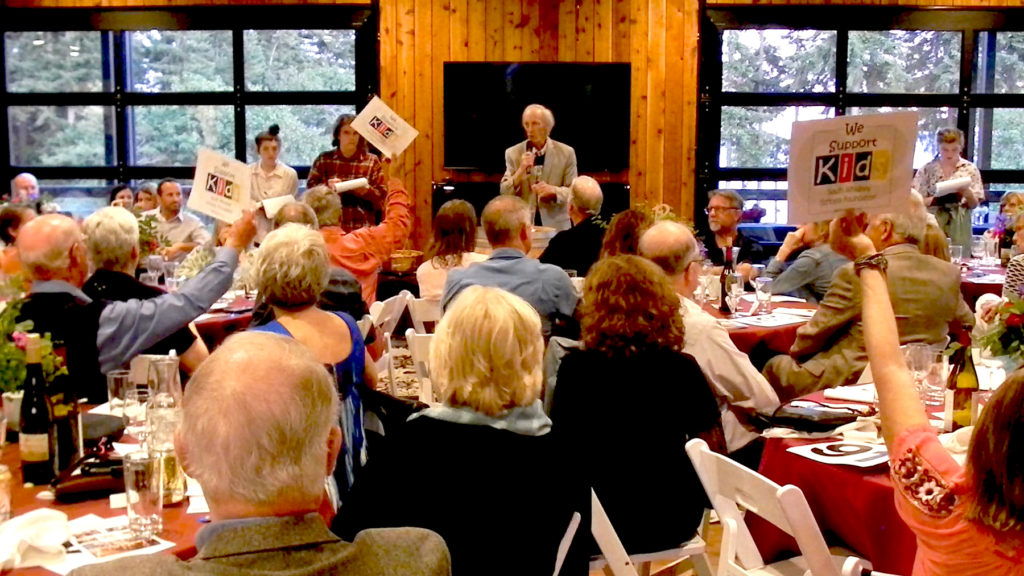 The South Whidbey Schools Foundation followed up its annual fundraising gala–which raised a record $22,000–with the presentation of two annual teacher awards at the close of the school year.
The June 2 dinner and auction gala was held at Comforts on Whidbey Winery and featured the South Whidbey Middle School Band, the South Whidbey High School Choir, and student presentations of projects funded by the Foundation during the 2017/18 school year.
Mindfulness coach Charlene Ray, LICSW, was the featured speaker, demonstrating mindfulness breathing techniques with the assistance of first through fourth graders, with many sharing how mindfulness classes have helped them better manage stress and anger.
Outgoing Foundation Board president Chris Gibson was thanked for his five years of service as President, and then serenaded by SWHS teacher and choir director Paula Ludtke with a special rendition of "Thanks for the Memories." Though stepping down as President, Gibson plans to remain as a Board member.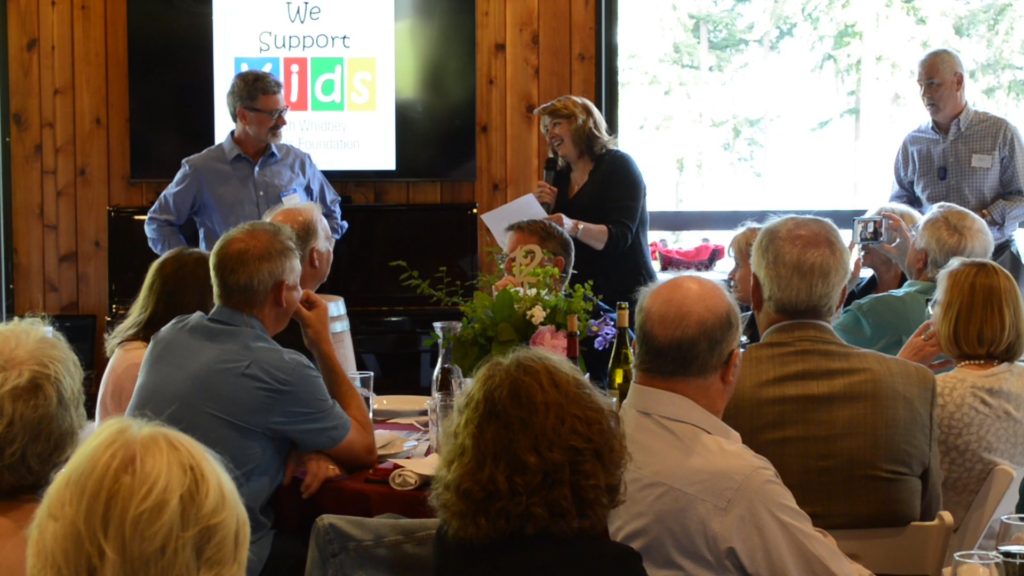 Emcees and auctioneers Jim Freeman and Sue Frause announced conducted a lively and humorous live auction of items, experiences and 'shares' of grants for a variety of academic areas.  SW Schools Superintendent Jo Moccia closed the evening with a Medallion Game which raised $1,000 and was then matched by winner and Foundation Board member Shelly Ackerman who donated her $1,000 winnings to the Foundation as she has done in the past.
The gala was soon followed with voting for two annual teacher awards which the Foundation presents: the Teacher Mentorship Award and the Teacher Extra-Mile Award.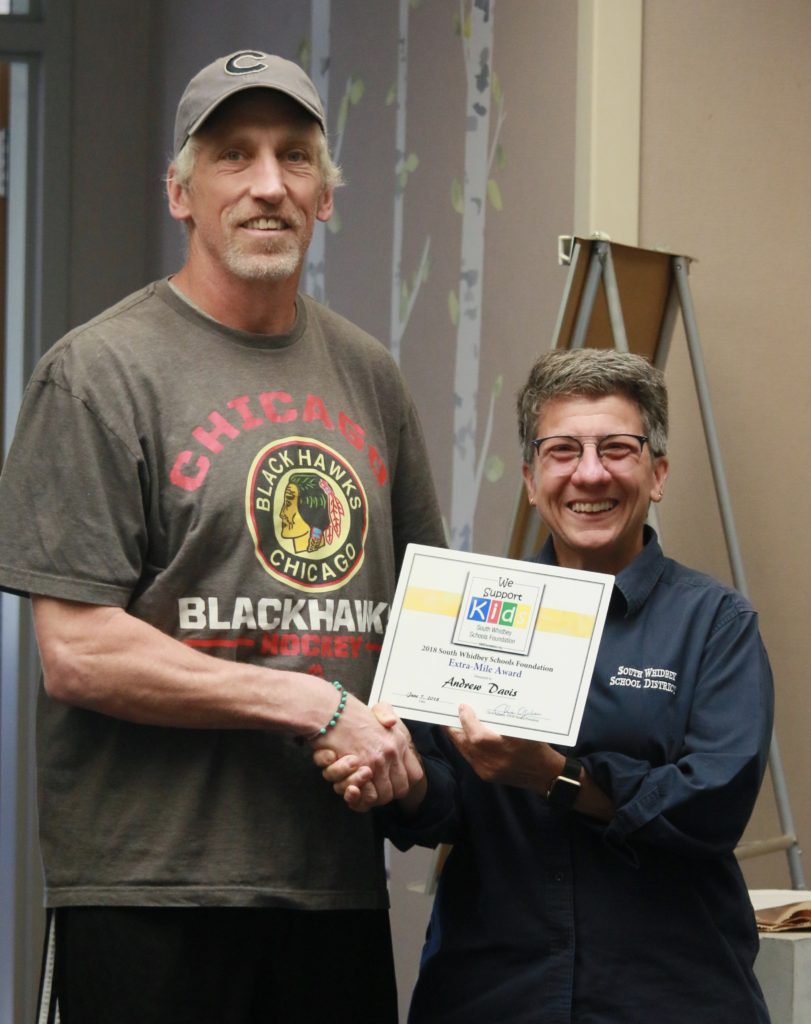 High School seniors voted for Brittany Brandt to receive the 2018 Teacher Mentorship Award for enhancing school spirit and providing exemplary mentorship in the Leadership class she taught, which provided students with the opportunity to do projects benefitting the South Whidbey community. The Foundation Board President announced the award at the June 7 Seniors school assembly and Brandt was presented with the plaque by School District Superintendent Jo Moccia at the June 15 district staff assembly.
Moccia also presented high school math teacher Andy Davis with a plaque for the 2018 Teacher Extra-Mile Award, who was nominated by his faculty peers.
"For the past eight years Andy has been helping students with various disabilities improve their math skills while helping them feel more able and confident in their ability to take risks and persevere on difficult challenges. Andy has always been more than willing to work with struggling students in math. He never complains about the extra work that was placed on him or the hours of time spent in Special Education meetings and also meeting with families that need support," wrote Charlie Davies, director of the South Whidbey Academy, adding "Andy may teach Math but it's not really about Math. It's much bigger."
Technology Educator Jim Hall echoed Davies' comments, adding that "Andy has worked tirelessly to form important relationships with marginalized students who need unique pathways to successful learning. Time and time again I've seen him tailor approaches for a wide variety of students, always treating them with respect and care."
The Mentorship award was established by Steve Shapiro, MD, and his wife, Debora Valis, for students to acknowledge and honor the leadership, mentorship and inspiration of specific teachers. The Extra Mile Award was created by an anonymous donor and recognizes extra efforts by a teacher. Both awards come with a $500 check.
We thank everyone who attended and supported our 2018 Schools Foundation Gala.