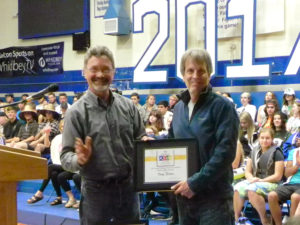 South Whidbey High School teachers Doug Fulton and Tim Durbin were recognized with excellence awards from the South Whidbey Schools Foundation at the June 8 South Whidbey High School senior farewell assembly.
Fulton, who received the peer-nominated "Extra Mile Award," teaches science at the high school, and was nominated by colleague Charlie Davies, lead educator for the South Whidbey Academy, and himself a previous award recipient.
At the farewell assembly Davies read from his nomination of Fulton:
"I have worked closely with Doug over the past nine years. In my previous role as Special Education Case Manager, Doug was always more than willing to have struggling students in his Biology class. He would never complain about the extra burden that was placed on him or the hours of time I would take from him to talk about the kids and how to best support them.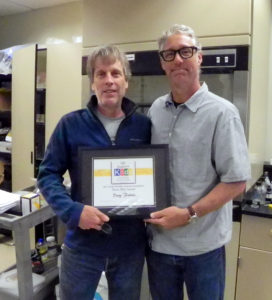 "Doug would always find a way. He would always say to me, 'Don't worry, if the student comes to class, we'll find a way,' and he did. Countless Special Education students over the past years have fully participated in Doug's Biology class with minimal to extensive modifications to the class. These students passed the class, earned their science credit and passed their state assessment.
"This year Doug took on a new challenge working to create a Biology class for the South Whidbey Academy students. He did just what he has always done. He made it work. The students were challenged and engaged and the class was a great success with students earning credit and passing the state assessment.
"I have also watched Doug over the years coach Cross Country and Track. He puts in tremendous amount of time and energy. He goes far above and beyond what is expected or even the norm. Doug has created a Cross Country experience that feels more like an extended family than a sports team … "Doug quietly goes the Extra Mile every day. We are lucky to have him," Davies wrote.
Holding back tears, SWHS senior Bailey Gochanour read aloud her nomination of math teacher Tim Durbin for the "Excellence in Teaching: Mentorship Award" at the farewell assembly. The award was established by Steve Shapiro, MD, and his wife, Debora Valis, for students in the community to acknowledge and honor the leadership, mentorship and inspiration of specific teachers.
"I nominate Mr. Durbin for this award because he has had a tremendous impact on the way I view math. I struggled with math a lot all through elementary school and middle school! It was one of those subjects that frustrated me and I just could never find much of a point in it.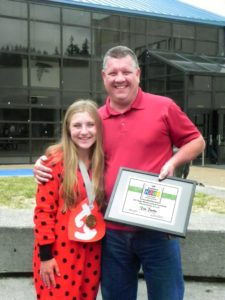 "I had Mr. Durbin for Geometry my freshman year and Algebra 2 my sophomore year, and he changed all of that for me. He got me to look at math as a useful tool, rather than a core curriculum chore that I needed to do to graduate and go to college. He rewarded hard work, rather than correct answers, which encouraged me to do my best and try my hardest, while taking a lot of the pressure and stress off that usually come with doing math… His philosophy was that if we were willing to put in our effort and time and energy into understanding, he would put his in to helping us improve.
"I really, really respect that teaching style. Mr. Durbin made me enjoy math, and it is now one of my favorite subjects. His extremely positive attitude inspired me every day, and it made his classroom a bright, safe, fun environment to be in. He is at school to help his students before, during and after school despite his long commute from town and his kindness is something that changed my outlook in many respects. Mr. Durbin really deserves this award," Gochanour said.
In addition to an award plaque the teachers received $500 checks from the Shapiro/Valis Teacher Mentorship Award endowment and an anonymous donor for the Extra Mile Award.