Jean Shaw, a former Langley Middle School teacher and now community liaison for the South Whidbey Schools Foundation, presented $200 checks to middle school teachers at the June 2 LMS farewell event.
The money is to help teachers in setting up their seventh- and eighth-grade classrooms at the high school or sixth grade classrooms at the old Primary School, which will be known as the "South Campus."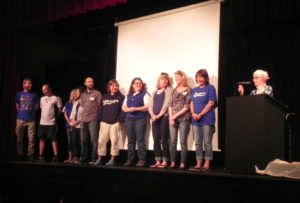 "We wanted to show our appreciation of these teachers and to recognize that this transition is a hard one for everyone. We hope this small grant will help them in setting up their new classrooms," said South Whidbey Schools Foundation President Chris Gibson.
Nearly 200 former students and staff came to bid farewell to Langley Middle School which opened in 1942 on the site of an earler two-story wooden grade school dating back to 1915.
Laughter and reminiscences tinged with sadness filled the school hallway as decades of graduates found their class photos – some dating back to the 1930s – on display in several classrooms . The photos will be put on permanent display in the building after the Island County Historical Society completes its photo restoration project and moves into a portion of the building this summer.
"A portion of the main building will become an archival resource center for both the Island County Historical Society and the local South Whidbey Historical Society; a center which will also be a research center for university students studying WA State history," announced South Whidbey Schools Superintendent Jo Moccia. She cited the Whidbey Children's Theater (which occupies the former LMS auditorium), and Island Dance Company (which occupies the former 1935 Langley High School) as examples of using the school as a community center.
The oldest Langley High School graduate in attendance, Don Goodfellow (class of 1947), was recognized by LMS Principal Jim McNally in the farewell program held in the auditorium (now Whidbey Children's Theater) which followed the open house.
In a video tracing the evolution of six schools in Langley (from the 1890s to 1942), Goodfellow recounted attending the sixth and seventh grades in the Fairgrounds pole building while the new brick grade school was being built. His eighth-grade class moved into the new school in mid-October 1942, — the school's opening delayed when desks arrived late because of World War II.
In the same video, Sharon Edwards, retired LMS library clerk and a graduate of both Langley Grade School and Langley High School (class of 1966), spoke about what school was like back then.
"Girls still had to wear dresses–no pants to school. We were not allowed to take woodshop; the boys were not allowed to take home-ec…. We had no traveling sports. Girls had no sports! …Thank God for equality!" she commented, and ended by saying, "I'm sad that this school is closing, because this school had all the heart… this school was built with love."
Webmaster Note: the video "Origins & Memories" will be posted on this Facebook page, the South Whidbey Schools Foundation website, the SW School District website, and the South Whidbey Historical Society in mid-June.