SOLD OUT:

 May 20 Schools Foundation Gala Dinner Honors the Past While Looking Forward
The South Whidbey Schools Foundation is hosting its annual fundraising gala May 20 at a new venue this year: Comforts Winery in Langley. This year's theme is "Honoring the Past / Shaping the Future."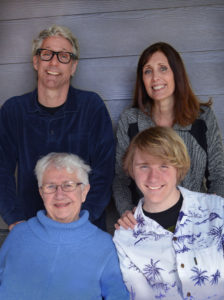 This year's speakers will include three generations of the Davies family: Jo Davies, now retired, taught for 28 years in the South Whidbey School District, daughter Debra is an Elementary School teacher, and son Charlie  is the lead teacher at South Whidbey Academy. Grandson Joe Davies, a junior at SWHS will also make remarks from a student's perspective.
A video about Langley Middle School–a joint project between the Foundation and the South Whidbey Historical Society–will also be shown, as will a video about one of the Foundation "Adopt-A-Grant" programs: Salmon in the Classroom. Students from this year's Climate Arts Project (funded by the Foundation) will perform "Echo Chamber" and "Earth Goes to a Doctor" – both of which received critical local acclaim.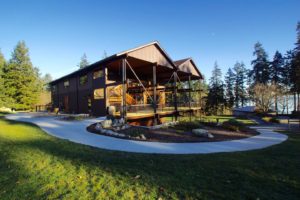 "We're excited to share information about how Foundation funding is being used to enhance education in the school district, support teachers who are changing locations, and connect community patrons with areas of education that they are passionate about supporting," said SWSF Board President Chris Gibson.
A 5 p.m. social hour will include live music by members of a SWHS jazz combo, a silent auction, and displays depicting some of the 20 funded projects this school year.

High School seniors involved with the Climate Arts Project will perform the acclaimed "Echo Chamber" and "Earth Goes to a Doctor" presentations that they did during Earth Week.  A video tribute to Langley Middle School in all its iterations over the years, will include a brief history of south end schools by local historian Bob Waterman. Master of Ceremonies Jim Freeman will conduct a lively auction of more than 10 items including four passes to Disneyland along with two airline tickets, VIP Seahawks Training Camp Experience tickets for two, four Mariners tickets, four Sounders tickets, a round of golf for four at Useless Bay Golf and Country Club, a Georgia Gerber sculpture, a Crab Feed Dinner for up to eight people, two nights at a Belltown Condo, tickets to the Paramount Theater, local Bed and Breakfast stays, two fold-down bicycles, and more.
Corporate sponsors for the gala include Whidbey Island Bank (a division of Heritage Bank), Whidbey Telecom, Forsyth Financial, Micro Computer Systems Inc., Washington Tractors, plus table sponsors: The Star Store and Fitting Vacations.
Since its inception 21 years ago, the Foundation has awarded more than $245,000 to local classroom projects. So far this year they have funded $27,000 in classroom grants.
The Gala is now sold out, but we look forward to seeing you at next year's event.
The South Whidbey Schools Foundation is a non-profit 501(c)3 organization dedicated to supporting innovation and excellence in the South Whidbey schools.